Out of Sight Out of Mind (OOSOOM) celebrates the 10th anniversary of Scotland's biggest mental health art exhibition.
The exhibition will be spread over three floors in Summerhall in Edinburgh and takes place in October. It will show artworks made by over 200 people, including films, paintings, sculptures, photography, installations and more.
The exhibition has championed the voices of people with experience of mental health issues since 2013. It has done this by showing their artworks in Edinburgh's acclaimed Summerhall Galleries. Over the ten-year period it has platformed the voices of over 1000 people and had nearly 10,000 visitors to Summerhall.
Film launch
The organisers will launch a short film as part of the celebrations. The film will share the exhibition's rich and evolving story, its activist roots and unique ethos. It will speak of the community that has formed around the exhibition and what it means to the people who take part. It will show the passion and investment by those who drive the work forward. A whole room in the galleries will be dedicated to materials from the OOSOOM archives.
There has been double the number of people than last year wanting to take part in the exhibition. This engagement proves its success and the continued need for people's voices to be heard.
The exhibition's history
The exhibition was born from the idea that in the very recent past, and even now, people who experience mental health issues were kept 'out of sight, out of mind'. The first exhibition organisers were a group of people who wanted to be seen and heard using art. Today, the OOSOOM community drives this ethos forward. Now, in 2022, the exhibition has a firm place in Edinburgh's cultural calendar and an abiding relationship with Summerhall.
There is a still strong element of defiance in Out of Sight Out of Mind. Not least because it can take a lot to act when self-assurance is lacking. Over time, the exhibition has found a more comfortable place within itself; it still stands firmly proud, holding up high whatever is expressed, be it anger or joy, and anything else.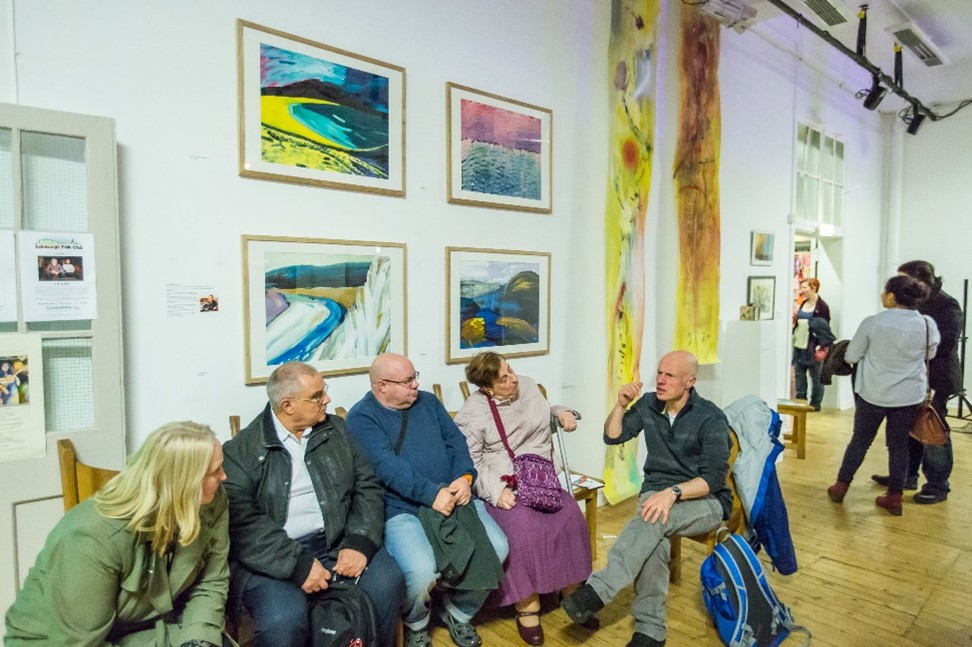 The exhibition will be open at Summerhall from 12th to 30th October, Wednesdays to Sundays, 12 to 6pm. There will be a launch on the evening of 11th October.